Consumer Connections
Consumer Connections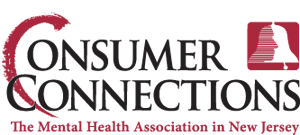 Consumer Connections is a nationally recognized program which recruits, trains, and supports consumers of mental health services working to become providers of mental health services. The program works with mental health providers in New Jersey to expand employment opportunities for consumer providers. Consumer Connections offers courses which meet the educational requirements and lead to Certification as a Recovery Support Practitioner (CRSP).  For more information on the CRSP certification, please visit www.certbd.org.   For more information on Consumer Connections please email consumerconnections@mhanj.org; or contact Chrissy Schayer, Director, at (848) 480-0916.
 Consumer Connections is not accepting applications for the CORE training at this time.  Look for our 2019 training announcement this fall!
If you have a training application processing, you will be notified of your acceptance status by Friday August 31, 2018.
Click here to learn more about our application & selection process