The Core training prepares individuals to use their mental health or co-occurring lived experience to provide peer support to adults in the mental health system in New Jersey. 
Core Training is the oldest and most well known Consumer Connections training program. It is designed to offer participants with a broad spectrum of training and education in areas that are fundamental to providing peer services to individuals living with mental health or co-occurring issues. Core Training consists of 84-hours of classroom instruction and is delivered by peers and other professionals who are highly experienced in all areas of peer support, wellness and recovery. It satisfies all of the education and training requirements for the Certified Recovery Support Practitioner (CRSP) credential in the state of New Jersey.
Core Training is offered 3 times per year, with set application periods for each of it's three sessions. Core Training is offered virtually, utilizing a hybrid synchronous and asynchronous format. Virtual live classes are typically held twice per week, with independent work assigned weekly through a learning management platform.
The 2024 Core Training dates have been announced! A link to the Core application will appear below only during open application periods.
Monday December 4, 2023- Consumer Connections is Now accepting applications for session 1 of Core Training!
Apply here by December 29, 2023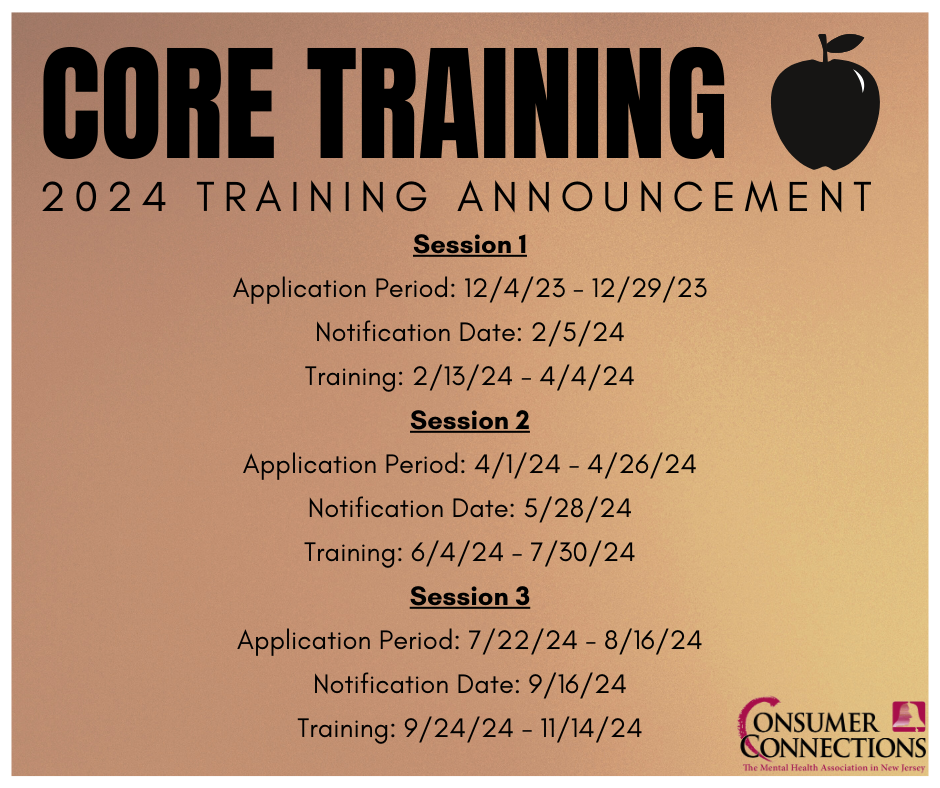 To view our Frequently asked Questions, Click Here
Upcoming Information Sessions (click to register):
For more information, please email Consumerconnections@mhanj.org.
Join our mailing list here