Suicide Prevention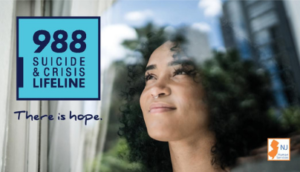 There is ALWAYS hope.
988 offers 24/7 access to trained crisis counselors who can help people experiencing mental health-related distress. That could be: Thoughts of suicide; Mental health or substance use crisis, or Any other kind of emotion distress. People can call or text
988
or chat
988lifeline.org
for themselves or if they are worried about a loved one who may need crisis support. The MHANJ's Call Center is pleased to serve as one of the call centers answering these calls.
Training and proven approaches are available. If you know someone whom you think is contemplating killing themselves it may be hard to broach the subject, but many evidence-based suicide prevention programs encourage us to do just that. The 988 Suicide & Crisis Lifeline's #BeThe1To campaign, which features the following steps: Ask, Be There, Keep Them Safe, Help Them Stay Connected, Follow Up and Learn More.

Click here for more about the campaign and 988

.
     Another recommended suicide prevention approach, QPR, Question, Persuade, Refer, is a nationally used, evidence-based training that assists people in learning how to recognize the signs of a suicide crisis and how to question, persuade and refer someone for help. The MHANJ is active with this initiative too, through two grants focused on youth mental health. Click here to read about the MHANJ's Focus on Youth Suicide

program,

funded by The Horizon Foundation for New Jersey, the philanthropic arm of Horizon Blue Cross Blue Shield of New Jersey. Click here to read about "The Every Mind Matters Project: Addressing the Mental Health Needs of Community College Students," the MHANJ's work with partners, the New Jersey Council of County Colleges' statewide Center for Student Success, the New Jersey Department of Health and the New Jersey Office of the Secretary of Higher Education, funded by the Community Foundation of New Jersey Pandemic Relief Fund and New Jersey Department of Health's U.S. Department of Health & Human Services Substance Abuse and Mental Health Services Administration Garrett Lee Smith Campus Suicide Prevention Grant.
     The MHANJ's peer-led statewide group facilitated by Loretta Mooney and Jessica Young provides support, comfort, and understanding for those who have lost someone to suicide. Please see the flyer below. For more information, contact Jaime Angelini at jaimea@mhanj.org.