Purple Swans Corp. Features Mental Health Awareness Messaging in Dance Performance/Fundraiser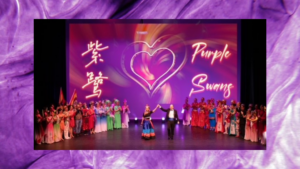 Please click the photo above to view a short video about the performance. 
A dance performance affords a wonderful opportunity for people from all walks of life to gather and enjoy a beautiful cultural event. It isn't often that a show like this includes a special focus on mental health awareness. Thanks to the Purple Swans Corporation, the 1000-plus audience members got the message! The Mental Health Association in New Jersey (MHANJ) was honored to be featured and also to be declared the benefactor of their November 2022 performance entitled, Dancing into the Dawn, shown at the Mayo Performing Arts Center in Morristown. This impressive production integrated indigenous Chinese dances and music with popular American genres. The audience experienced the grand celebration while also supporting mental health awareness. The November event marked the Purple Swan's second performance collaborating with the Mental Health Association in New Jersey to raise funds and awareness for mental health.
"We commend the Purple Swans Corporation for raising awareness of the importance of mental health at such a well-attended public event. We appreciate their commitment to breaking the stigma of mental illness and for their generous support," said Carolyn Beauchamp, President and CEO of the MHANJ.
The Purple Swans Corporation commented, "The pandemic aggravated mental health problems. But no one is fighting alone. We are honored to have partnered with the MHANJ since 2019 to provide resources for battling mental health problems. At the end of a long night, it is time to dance into the Dawn."
"Our team has appreciated the opportunity to teach Mental Health First Aid and Question, Persuade, Refer suicide prevention gatekeeper training to members of the Asian community made possible through the Purple Swans' fundraising efforts. These evidence-based trainings help to prepare us to make a positive difference in the lives of others," stated Ruth Kaluski, Statewide Director of Mental Health First Aid for the MHANJ.
The Purple Swans Corporation is a non-profit organization founded in 2014 by a group of dance professionals and enthusiasts. With an objective to create a positive impact in peoples' lives and promote Chinese performing arts, the group has produced many memorable classic performances in the greater New York area. Founding members are accomplished professionals from a variety of fields including finance, technology, education and art, who dedicate their time to this great cause.