National Hispanic Heritage Month
National Hispanic Heritage Month is September 15 to October 15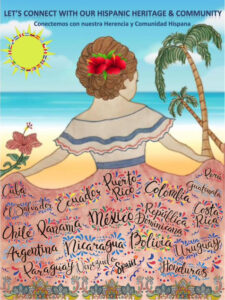 Photo Credit: National 
Council of Hispanic
Employment Program Managers.
     Mental health topics are often stigmatized in the Latinx/Hispanic community. The Latinx/Hispanic community is made up of diverse individuals oftentimes set apart by their country of origin or ancestral history. For the Latinx/Hispanic community, mental health and mental illness are often stigmatized topics resulting in prolonged suffering in silence. This silence compounds the range of experiences that may lead to mental health conditions including immigration, acculturation, trauma, and generational conflicts. Additionally, the Latinx/Hispanic community faces unique institutional and systemic barriers that may impede access to mental health services, resulting in reduced help-seeking behaviors. Click here for helpful strategies and more information.
    Help is available. The MHANJ joins Mental Health America and numerous others in supporting diversity, equity, inclusion and engagement. We offer a vast variety of programs addressing emotional health for families and individuals with diverse backgrounds that vary by culture, race, ethnicity, gender expression, religion and language. Click here for more information.
The NJ MentalHealthCares Helpline (866-202-4357) offers emotional support, information and referral in Spanish and many other languages.
Mental Health America offers online screening for
depression
and
anxiety
screenings in Spanish, as well as in English, with recommendations provided as needed based on results.
Scroll to the "Bulletin Board" below to see MHANJ's Spanish-speaking virtual support group flyer.