About James McCreath, Ph.D., LCSW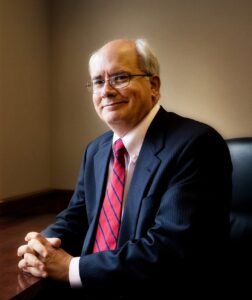 James McCreath, Ph.D., LCSW, will be honored at the Mental Health Association in New Jersey's 22nd Evening of Excellence.
Thousands of New Jerseyans with mental illness and/or substance use disorder have been helped by James McCreath, Ph.D., LCSW, during his distinguished, 46-year career. Having recently retired from his role as Vice President for Psychiatry, Behavioral Health and Long Term Care at Trinitas Regional Medical Center, an RWJBarnabas Health facility, Dr. McCreath is being honored for innovative leadership in behavioral healthcare. He leaves a legacy of initiatives which will continue to provide care for years to come.
Carolyn Beauchamp, President and CEO of the Mental Health Association in New Jersey, said, "As both an innovator and mental health professional Jim (Dr. McCreath) has dedicated his career to improving the lives of people with behavioral health challenges and also their family members. His heartfelt commitment to serving people in their own community, along with his innovative ideas, will continue to make a difference in our state."
Gary S. Horan, FACHE, President and CEO of Trinitas Regional Medical Center|RWJBarnabas Health, stated "Jim (Dr. McCreath) is a visionary with his finger on the pulse before other people. He is brimming with innovative ideas. He is an extremely accomplished behavioral health executive with over 46 years of leadership in mental health, respected for his knowledge, expertise and contributions to behavioral health and psychiatry."
A leader, a behavioral health care pioneer, a therapist, an educator, and a mentor, Dr. McCreath entered the field because he enjoyed helping and listening to people as well as guiding them to be the best they could be. He reflected, "I am incredibly happy that my career began during the shift of heavy reliance of behavioral healthcare being provided in state hospitals to community-based care. I appreciated the opportunity to work with others to enable people with mental illness to get the help they need in their own community."
Dr. McCreath became a significant contributor to the improvement of behavioral healthcare in the state. Examples of initiatives he spearheaded during his seven-year tenure at Trinitas include:
expanding mood disorder treatments with evidence-based services including ECT and esketamine;
expanding the existing 15 bed Adolescence Residence to 20 beds;
securing a SAMSHA grant to open an integrated primary care clinic in the Behavioral Health Department, enabling patients to receive medical and behavioral health care in the same building;
securing a second federal grant to establish Trinitas as a Certified Community Behavioral Health Center;
collaborating with the Trinitas Foundation to establish the "Peace of Mind" anti-stigma campaign and event, raising $5 million to renovate aging behavioral health areas;
expanding the adult psychiatric inpatient unit;
expanding school-based clinic in Union County;
working with police to start an ARRIVE Together program, the second in the state and the first pilot in an urban area, pairing a mental health screener with Elizabeth and Linden police when responding to mental health crisis calls;
establishing the only inpatient psychiatric until for adults with developmental disabilities in New Jersey and securing a Certificate of Need to expand it from 10 to 22 beds;
establishing the Trinitas' CARES program to respond to individuals with developmental disabilities anywhere in New Jersey who are having mental health or behavioral crises;
delivering grant funded psychiatric services, case management, consultation and education services to nursing home residents across the state;
establishing diversion and justice involved services in Union County;
establishing the DBT (Dialectical Behavior Therapy) Institute at Trinitas to deliver specialized training to clinicians as well as delivering high quality DBT treatment.
Frank A. Ghinassi, Ph.D., ABPP, President and CEO of Rutgers University Behavioral Health Care, Senior Vice President of Behavioral Health and Addiction Services for RWJBarnabas Health, said, "Jim (Dr. McCreath) is a premiere example of someone who has spent a lifetime dedicated to the field of behavioral health and addiction services. He has been a key participant in the transition of the healthcare field for five decades. During this time, he has helped to navigate the challenges and opportunities of deinstitutionalization, managed care, hospital-based services, and the proliferation of the continuum of community-based services. Throughout his career, his leadership has exemplified poise, calmness, and confidence."
Previously, Dr. McCreath was President and Chief Executive Officer of Hall-Brooke/St. Vincent's Behavioral Health System, Westport, CT. Serving as Vice President, Behavioral Health & Ambulatory Care Services at Jersey City Medical Center, he led the behavioral health team in establishing a number of innovative services as well as taking leadership of a team of 60 clinicians who set up operations at the Jersey City waterfront to provide immediate crisis services on 9/11 and for months after. Jim was part of the team who transitioned JCMC from the Baldwin Avenue campus to the new site at Jersey and Grand.
He was Assistant Vice President for Professional/Mental Health Services for St. Mary's Hospital, Passaic, where he helped to establish New Jersey's first mental health screening center and first short-term mental healthcare facility. He was the Director of the Adult Partial Hospital Program at Catholic Community Services, Cranford. He also had a private practice as a behavioral health therapist for over 20 years.
Among his many leadership positions, Dr. McCreath served as President of the New Jersey Association of Clinical Case Management, President of the Board of Directors of Hudson Partnership, CMO, and a member of the Governor's Council on Alcoholism and Drug Abuse. He is currently on the New Jersey Social Work Examiner's Licensing Board, having been appointed by Governor Chris Christie. He is an active member of the Board of Trustees of the Mental Health Association in New Jersey.
Dr. McCreath obtained his Doctorate degree from New York University School of Social Work, and his Master's degree in Social Work from Columbia University School of Social Work. He earned a Bachelor of Arts degree in Sociology from Seton Hall University. In addition, he served as an instructor at Rutgers University's Graduate School of Social Work and was an Adjunct Assistant Professor of Social Work at Seton Hall University.
Dr. McCreath's publications and presentations cover such topics as clinical homes, partial care programming for college students, and advance directives for the elderly.
Dr. McCreath is optimistic for the future of behavioral health care. "As the community behavioral health system moves forward, I hope it will continue to be more and more integrated and accessible, building on the capability that has come so far, so people who need help get it in a timely, accessible and comprehensive way," he stated.
About the Mental Health Association in New Jersey's Evening of Excellence
The Mental Health Association in New Jersey is grateful to its corporate sponsors of the 22nd Evening of Excellence, including: Trinitas Regional Medical Center and RWJBarnabas Health at the Platinum Level;  Investors Bank, a Division of Citizens Bank, N.A., and MinuteClinic, located in select CVS Pharmacy stores, at the Gold Level; Hackensack Meridian Carrier Clinic, Janssen Neuroscience Pharmaceutical Companies of Johnson & Johnson, Pfizer, United Healthcare, Janine and Dan Kane and Gia and Patrick O'Keefe at the Silver Level; and Delta Dental, Lexpath, Mike WorldWide and Steven E. Geltzeiler at the Bronze Level. 
The Mental Health Association in New Jersey is a statewide non-profit organization whose mission is to strive for children and adults to achieve victory over mental illness and substance use disorders through advocacy, education, training and services. Its state headquarters is in Union County; it has additional locations in Atlantic, Hudson and Ocean Counties, and affiliates in Essex, Monmouth, Morris, and Passaic Counties. For more information visit https://www.mhanj.org/.
The Mental Health Association in New Jersey's state headquarters is in Union County; it has additional locations in Atlantic, Hudson and Ocean Counties, and affiliates in Essex, Monmouth, Morris, and Passaic Counties.
Please click here to purchase a ticket to the MHANJ's 22nd Evening of Excellence, explore sponsorship or place a congratulatory ad in the electronic ad journal.
Click here to visit our website for more information about the MHANJ. If you have any questions, please call us at 973-571-4100, ext. 123.