Hudson County Support Groups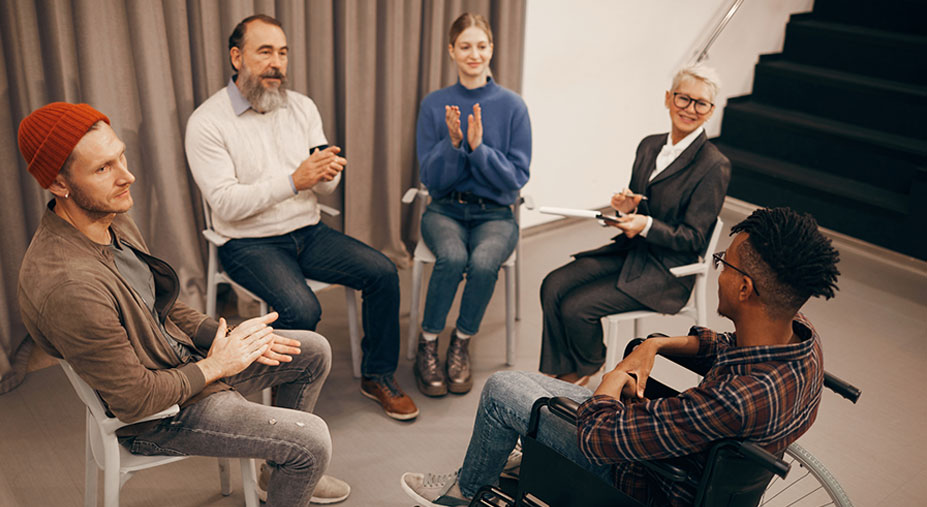 The Mental Health Association in New Jersey (MHANJ) in Hudson County provides direct services to support and educate individuals with mental health challenges.
The MHANJ is a statewide non-profit organization that strives for mental health for children and adults through advocacy, education, training and services. Since 1948, the MHANJ has fulfilled its mission by responding to issues raised by consumers of mental health services, working for changes and promoting policies that protect their rights and fighting the stigma that makes mental health recovery difficult. The MHANJ also provides a program that directly assists consumers in need, reducing the strain on limited government resources.
We continue to be a driving force through our advocacy efforts, working to ensure that mental health consumers have a voice.
About Peer Outreach Support Team (POST) Services in Hudson County
The Mental Health Association in New Jersey's Peer Outreach Support Team (MHANJ's POST) program consists of peers, people in recovery from mental health problems, who can share lived experience and serve as role models. POST staff members provide emotional support, information and assistance with referrals and links to community resources, such as mental health, medical, housing, employment and self-help programs. They also provide in-home peer counseling to consumers in crisis and assist them on the road to recovery.
The POST program is truly peers helping peers. The MHANJ has a long history of creating job opportunities for consumers of mental health services, starting the POST program in the Atlantic County office in 1986. Through the years, peers who work on the POST teams have demonstrated that they are sometimes better able to engage consumers in services due to their first-hand knowledge of the mental health system from a consumer perspective. Working with peer staff members can be especially inspirational and empowering for consumers who have not worked or are not in the workforce.
Eligibility
The Mental Health Association in New Jersey offers POST programs in Atlantic, Hudson, Ocean and Union Counties. Most POST clients live in the community and need treatment and support to help avoid relapse and/or re-hospitalization. We often work closely with people who have recently been discharged from the hospital, or have been screened in an emergency room or screening center but were not hospitalized. We help people avoid crisis and stay healthy in the community.
How POST Works
POST encourages people to take responsibility for their own recovery. We usually work closely with a client for three-to-six months developing a partnership to create and support the client's own recovery goals. In addition to the important one-to-one support. POST workers run a variety of groups such as twelve-step recovery meetings and sessions that focus on wellness, employment, communication skills and social activities. These are held in various places including churches, self-help centers, boarding homes and other community settings.
How to Get POST Services
Ideally, individuals refer themselves to POST services, but referrals can also come from family members, mental health or human services providers if the individual agrees to the referral. For more information please call (201) 653-4700.