Hispanic Heritage Month 2023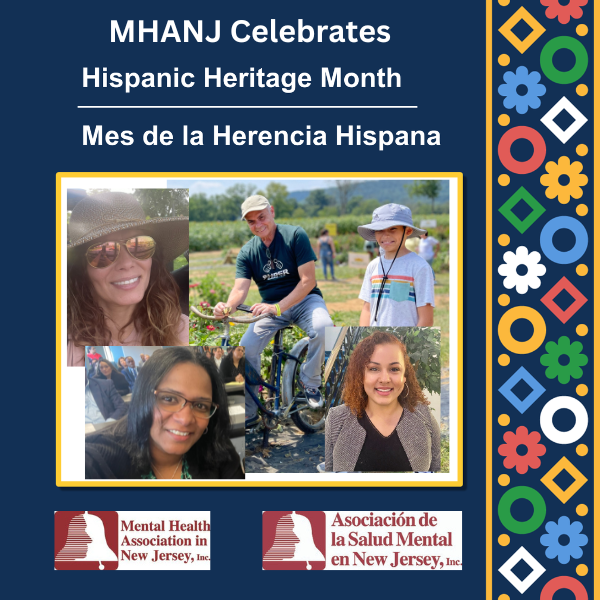 The Mental Health Association in New Jersey is pleased to recognize September 15 through October 15 as National Hispanic Heritage Month.
This observation was initiated in 1968 as Hispanic Heritage Week under President Lyndon Johnson and was expanded to 30 days in 1988 by President Ronald Reagan. The time frame of Hispanic Heritage Month is significant because it covers milestone independence days and/or celebrations of Indigenous people for several Latin American countries.
According to SAMHSA, the 2021 National Survey on Drug Use and Health reported that:
Nearly 22% of Hispanic and Latino Americans reported having a mental illness, compared to 23.9% of non-Hispanic Whites
Only 36% of Hispanic and Latino Americans received mental health services compared to non-Hispanic Whites (52%)
Past year substance use disorder among Hispanic and Latino Americans was 15.7%, reported rates of illicit drug use was 19.4%, and unmet treatment needs 15%
The MHANJ is committed to inclusiveness and increasing access to behavioral health resources for everyone. Click here for information about our resources for Spanish-speaking individuals.
Sources:
https://minorityhealth.hhs.gov/hispanic-heritage-month/
https://www.hispanicheritagemonth.gov/about.html
https://www.samhsa.gov/behavioral-health-equity/hispanic-latino#:~:text=Behavioral%20Health%20Concerns-,Behavioral%20Health%20Concerns,23.9%25%20of%20non%2DHispanic%20Whites