Spotlight on Daysi Sanz, MSW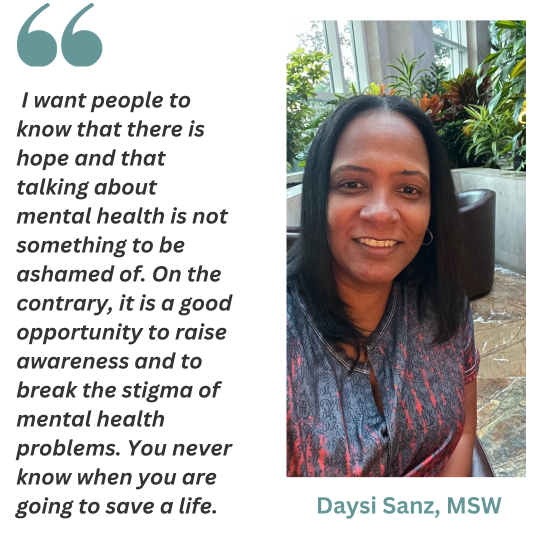 Sometimes facing the scariest situations can bring on the good, like finding the profession you were born to do. In 2010, Daysi survived a serious car accident, caused by her driving while intoxicated. This was a wake-up call.
Daysi's Life
Daysi moved to the U.S. from the Dominican Republic with her family when she was a teenager. They started off living in New York City and moved to Atlantic City for her last year of high school. She graduated high school, took a few courses at Atlantic Cape Community College, and worked in a casino for a few years. Substance misuse and mental health challenges began to set in.
Daysi explained, "In 2010, I had a bad car accident. Driving when I was drunk, I crashed into a liquor store. My car caught on fire. I was unconscious and rescued by a police officer who got me out of my minivan and took me to the hospital. Luckily my only injuries were a broken wrist, and cuts and bruises all over my hands and legs. Nobody else was injured. That was a wake-up call for me! In order to avoid jail time, I decided to go to rehab for three months in Florida. After that, I quit using substances and haven't had anything since."
Daysi wanted to go back to college but wasn't ready yet. The right time came in 2014. She earned her Associate's Degree from Atlantic Cape Community College and then became a student at Rutgers University in Mays Landing, starting off wanting to be a counselor to help those with substance use disorders.
How did Daysi find the MHANJ?
Daysi had internships while working on her Associate's, Bachelor's and Master's Degrees. The first, for her Associate's Degree, she worked with people living with substance use disorder at an agency called Helping Hands; the second, for her Bachelor's Degree, she worked with people living with mental health conditions at the MHANJ in Atlantic County, where she worked with peers and did community outreach; and the third, for her Master's Degree, she worked with people with serious mental illness at AlantiCare Behavioral Health. What she enjoyed the most was focusing her work on helping people with mental health challenges — that's where Daysi felt she belonged!
Early during the second semester of her internship at AtlantiCare Behavioral Health, COVID struck, and she needed to find an alternate, online internship experience. Once again, she found a home at the MHANJ in Atlantic County and statewide, completing her internship facilitating Spanish-speaking online support groups as part of the New Jersey Hope and Healing program and providing additional offerings. She has been with us ever since, collaboratively running online Spanish-speaking support groups, working on community outreach initiatives and serving as a specialist on the New Jersey Mental Health Cares Helpline.
What does Daysi want you to know?
Daysi mentioned that there are several barriers for Spanish-speaking people to get help for substance use and/or mental health conditions, also known as behavioral health challenges. The overarching issue is a lack of behavioral health resources available in Spanish. Further, there is a lack of therapists who speak Spanish. She stated, "I've been in therapy many times – I often couldn't find somebody who speaks Spanish so I had to see somebody who speaks English. It is not the same for someone who speaks Spanish to have therapy with someone whose first language is English, even if they can speak Spanish. This is mostly because it is hard to explain and reference certain things that don't translate well. Even if the therapist is not from the same country but speaks Spanish, the client and the therapist will still understand each other."
Daysi pinpoints the stigma of behavioral health issues as a problem for those in the Spanish community. "Most Spanish-speaking people who live with depression or another mental health challenge are not comfortable telling others because there is a lot of stigma related to mental health and substance use problems in our community. People don't like talking about the issues and don't like to see a counselor or therapist because they don't want others to think they are 'crazy'. So, I am very open about saying the things I've been through. I don't mind telling people that I suffer from depression, anxiety and stress. The more open we are about talking about these problems the more people will be willing to get help," she said.
Daysi raised another important topic. "We often hear from undocumented Spanish-speaking immigrants about the lack of mental health resources in their native language. There are not many mental health services available in Spanish – anywhere in the U.S. Many of these people are living with trauma related to their journey crossing the border. The MHANJ's services in Spanish such as support groups and the Helpline can be helpful, and we try to refer them to appropriate services whenever possible," she said.
There is hope!
Daysi shared, "I am somebody who struggles with depression and anxiety who also had a history of substance misuse. It is very important for me to share my story, not only because of what I've been through but because there is a lot of history of substance use conditions in my family. I would like to make people aware of the danger of ignoring substance misuse and mental health problems which can affect us very badly if we leave them untreated. I want to help people. I want people to know that there is hope and that talking about mental health is not something to be ashamed of. On the contrary, it is a good opportunity to raise awareness and to break the stigma of mental health problems. You never know when you are going to save a life. I encourage everyone to reach out for help as soon as possible when a behavioral health problem arises."