Programs and Services
---
WORKFORCE DEVELOPMENT

Career Connection Employment Resource Institute
The Mental Health Association in New Jersey's Career Connection Employment Resource Institute (CCERI) expands employment opportunities for people in recovery by creating system change through the promotion of best practices. We offer training for providers, consumers, family members, and employers as well as technical assistance for mental health providers. We also collaborate with other community organizations. Services are available at no cost to individuals and agencies
Types of Training Available
Specialized Employment Training
Experts on a variety of subjects offer training to increase knowledge and skills in a number of areas that impact vocational outcomes.
 Onsite Customized Training (OCT)
OCT is customized by our experienced staff to meet the needs of the target audience. Sessions are conveniently provided onsite at your location, eliminating staff travel.
55-Hour Partial Care Prevocational Training
This Prevocational Training series is approved by the New Jersey Division of Mental Health and Addiction Services (DMHAS). Its goal is to increase staff's vocational competencies to prepare consumers for employment.
---
UPCOMING WORKSHOP
Reentry and Employment-A Professional Development Workshop
Friday, November 15, 2019
10:30am-2:30pm
Elizabeth Public Library, 4th-floor Auditorium
11 South Broad Street
Elizabeth, NJ 07202
Service Providers will learn more about Disability rights, Expungement and Reentry in New Jersey.
________________________________________________________________
10:30 am-12 pm: Disability Rights and Employment
In this workshop, participants will identify and discuss important information that affect people living with mental illness and their employment rights as persons with a disability. Participants will gain an understanding of the Americans with Disabilities Act and the New Jersey Law Against Discrimination, particularly essential job functions, reasonable accommodations, and job applications (including New Jersey's "ban the box" restrictions). General employment rights and advocacy resources will be shared.
Trainer
Joe Young is the former Executive Director of Disability Rights New Jersey. Joe represented people with disabilities exclusively since 1979, when he joined the Community Health Law Project. He also served as Deputy Director of the Division Advocacy for the Developmentally Disabled in the Department of the Public Advocate. Joe received his law degree from Rutgers-Newark Law School. He has appeared in an administrative, trial, and appellate courts, including the New Jersey Supreme Court and the United States Court of Appeals for the Third Circuit.
_______________________________________________________________
1 pm-2:30 pm: Information and Updates on New Jersey's Expungement Law
This overview of New Jersey's expungement law will explain what records may be eligible for expungement as well as the documents used to determine eligibility. Participants will learn how to obtain a criminal case history (CCH) and receive detailed information on the Opportunity to Compete Act (also known as "Ban the Box"). Information on options available for legal assistance and Volunteer Lawyers for Justice (VLJ) client services on reentry will be shared as well as resources for those who do not qualify for expungement.
Trainer
Karen Robinson is a Staff Attorney for Volunteer Lawyers for Justice (VLJ) and coordinates VLJ's efforts for Newark Reentry Legal Services (ReLeSe) and the Trafficking Victims' Legal Assistance Program. Karen currently is a member of the Essex Vicinage Advisory Committee on Diversity, Inclusion and Community Engagement and the New Jersey State Bar Association Karen is a graduate of the University of California, Berkeley with a BA in Rhetoric and received her law degree from Seton Hall University School of Law.
Lunch is on your own
No cost to participate
CRC credits pending
please click here to register by November 11th
http://r20.rs6.net/tn.jsp?f=001VCnqlMeSq_7kjLNoovAlLSeeDnebqRlFNfGvjaH2T4xQ1K8IprtPKQhffNm_yIhXuAv6qPsuPK9G6QGnkIgpV6eGIgUNYQTjPWjo2avFHJZTKkGmGApOn5iXToduYOjax5mvHTeTznwUqZPIkWrY-_eNVQwXaOq2l3y01ATB9McPt7nqVLKV0kruxUzETurfU6BXim8dtEBWoRCEGFLcorknOnmTRnqlRC7uBgeDg24=&c=aOipqIJF2cxLuTgwJb6TTRxRxppwa4TEZtUoIVdQA8c32bJsrcP-hQ==&ch=wm6ro4cFMr_XwEeAO38nkCvZNFTbUXMbbXuCQxxrGAJ3zGJDRKZ-lw==
This program is funded by the New Jersey Division of Mental Health and Addiction Services.
If you have any questions please contact
Ruth Kaluski at 973-571-4100, ext. 136 or rkaluski@mhanj.org.
973-571-4100
www.mhanj.org
---
---
Examples of Available Training Topics
Job Development
Job Coaching
Benefits
Entrepreneurship
Co-occurring Disabilities and Employment
Wellness Recovery Action Plan (WRAP) for Work
Motivational Interviewing
Veteran's Issues
Reentry
Domestic Violence and the Workplace
Professional Fatigue
Interviewing Skills
Developing Employment Groups
Barriers to Employment
Social Media and Work
Resume Development
Career Counseling Techniques
ADA and Reasonable Accommodations
For more information contact Ruth Kaluski at rkaluski@mhanj.org or 973-571-4100, ext. 136
COMMUNITY EDUCATION
  Community Education and Outreach
MHANJ offers on-site presentations to workplaces, schools, health fairs, businesses, and community organizations. Presentations are conducted by MHANJ staff or other qualified speakers. We can also arrange for an MHANJ staff person or volunteer to speak about a mental health topic from a personal perspective. This first-person viewpoint, combined with a lecture or role-play presentation, is a very effective educational tool.
The Community Education and Outreach Department is dedicated to promoting mental health and decreasing the stigma surrounding mental illness by providing education to enhance awareness and understanding. Programs include the Mental Health Players, PEWS (Promoting Emotional Wellness and Spirituality, WRAP (Wellness Recovery Action Plan) training and more.
For more information please contact Marilyn Feliciano,   at 973-571-4100, ext. 164 or mfeliciano@mhanj.org
---
 Holiday Webinar Series; The webinars are on Wednesday's 2-3 pm.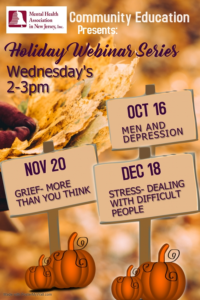 MEN AND DEPRESSION- 10/16
Depression is a serious but treatable health condition that affects more than six million American men. Men of all ages, ethnic origins and walks of life get depressed. Depression can touch every part of your life – how you eat, sleep, work, study and spend your free time. It can take the joy out of life and the things you like to do. And, it affects all the people who care about you – friends, spouses, partners, parents, and children. But you CAN do something about it. Depression can be managed and overcome. Maybe you know of a man who seems depressed. This webinar will show you how to help. This webinar will include a live interview with Malik Carey, M.S. Founder and CEO, Family Healing Center, Livingston, NJ. Tune in to watch as Malik shares his personal story and his success at overcoming seemingly unobtainable odds to achieve his emotional wellness.
Learning Objectives
Many men experiencing emotional challenges tend to ignore the symptoms of feeling unwell, lost or lonely by thinking the feeling/s will pass soon enough. For those who do seek help very often do not know where to turn or what questions to ask. These topics and more will be explored.
Participants will gain knowledge on:
• Major health problems affecting men
• Signs and Symptoms of anxiety and depression
• Suicide Warning Signs
• Talking to a Professional Local Resources
Click here register https://www.eventbrite.com/e/men-and-depression-tickets-73984829617
---
GRIEF- MORE THAN YOU THINK -11/20
Coping with the loss of someone or something you love is one of life's biggest challenges. You may associate grieving with the death of a loved one, which is often the origin of the most intense type of grief, but any loss can cause grief.
Learning Objectives:
The pain of loss can feel overwhelming. You may experience all kinds of difficult and unexpected emotions, from shock or anger to disbelief, guilt, and sadness. The more significant the loss, the more intense your grief will be.
Participants will learn
• The different components of grief
• How to Identify signs and symptoms of grief
• Some of the folklores and misconception of grief
• How to take care of yourself and others while grieving
Click here to register https://www.eventbrite.com/e/grief-more-than-you-think-tickets-73988231793
---
STRESS- DEALING WITH DIFFICULT PEOPLE- 12/18
Stress is a normal part of life that can either help us learn and grow or can cause us significant problems. Stress releases powerful neurochemicals and hormones that prepare us for action (to fight or flee). If we don't act, the stress response can create or worsen health problems. If you are surrounded by unreasonable, difficult, angry, dis-honest, rude, impatient people, then you may have amplified STRESS.
Learning Objectives
Participants will learn strategies developed by crisis intervention professionals that can be applied immediately to your boss, a customer, a family member, and even a stranger. In addition, participants will acquire evidenced based self-management tools to manage stress and overall mental health and wellness.
Participants will learn about
• The Impact of Stress on your well-being and how it affects your communication with others
• Signs and Symptoms of Stress
• Evidenced-Based tools to support their own mental health by reflecting on the causes of stress and poor mental health, and by taking ownership of practical steps to help address these triggers.
• Practical application on how to defuse dicey conversations through "verbal de-escalation" techniques.
Click here to register https://www.eventbrite.com/e/stress-dealing-with-difficult-people-tickets-73989734287
---
  Choices (Smoking Cessation)
Choices (Consumers Helping Others Improve their Condition by Ending Smoking) is a program for smokers with mental illness. The goal of the program is to increase awareness of the importance of addressing tobacco use and to create a strong peer network that encourages mental health consumers to stop smoking. Choices is a joint program of the MHANJ and the University of Medicine and Dentistry in New Jersey (UMDNJ).
For more information visit www.njchoices.org.
   Hearing Distressing Voices Workshop
"Hearing Distressing Voices" Workshop is a two-hour workshop that provides a simulated experience of hearing voices that will enhance empathy and understanding of the day to day challenges that face people with psychiatric disabilities. Designed for mental health providers and anyone who would like to better understand the experience of hearing distressing voices, the ultimate goal is to bring about change in clinical practices that will better address the needs of people who hear voices. Workshops can be held on-site at your facility. This workshop is not meant for anyone who experiences voices.
For more information or to schedule a workshop contact Laverne Williams at lwilliams@mhanj.org  or 973-571-4100, ext. 130.
  The New Jersey Mental Health Players
The MHANJ's NJ Mental Health Players (NJMHP) is a highly successful, interactive community education program. It is the longest-running program of its type in the state made up of volunteers who are trained to depict realistic scenarios.
The NJ Mental Health Players provide audiences with a dynamic way to receive basic education about mental illness, addiction and other relevant challenges to increase awareness, decrease stigma and break the silence. Topics cover a variety of areas: depression, addiction, suicide, stress and anxiety, harassment-Intimidation-bullying (HIB), schizophrenia, dementia, bipolar disorder, eating disorders, conditions of aging, dual diagnosis, post-traumatic stress disorder (PTSD), interpersonal relationships, grief, generalized anxiety disorder (GAD), parenting challenges, cultural competence, body image, gender identity, stigma, and much more. Performances usually consist of two customized, audience-specific scenes, each of which is followed by a talk back -an opportunity for the audience to interact  with the players  to ask questions and engage in solutions
The New Jersey Mental Health Players Program provides mental health presentations throughout the state of NJ. Performances are held on weekdays, evenings and on occasional weekends. Venues include but not exclusive to community and corporate conferences, seminars, elementary, high school, colleges/universities, social service agencies, hospitals, state and federal agencies
Please view and share this promotional video. https://youtu.be/CLfDogjyLfk  For bookings and information contact the Director Lynette Sheard at mentalhealthplayers@mhanj.org or call 973-571-4100 ext. 104
   
Program
Consumer Connections is a nationally recognized program which recruits, trains, and supports consumers of mental health services working to become providers of mental health services. The program works with mental health providers in New Jersey to expand employment opportunities for consumer providers. Consumer Connections offers courses which meet the educational requirements and lead to Certification as a Recovery Support Practitioner (CRSP).  For more information on the CRSP certification, please visit www.certbd.org.   For more information on Consumer Connections please email consumerconnections@mhanj.org; or contact Chrissy Schayer, Director, at (848) 480-0916.
Mission Statement
Consumer Connections, a program of the Mental Health Association in New Jersey, is dedicated to strengthening and expanding peer workforce development. Through the creation of high-quality training and educational opportunities, our goal is to empower individuals working as Peer Specialists to use their lived experience to support others in moving toward wellness and recovery.
Vision Statement
To offer state of the art training and support to peers seeking to develop the skills and competencies necessary to work as Peer Recovery Specialists in the State of NJ.
The application period for 2017 CORE training is now closed.
Watch for 2018 CORE training announcements coming soon.
Click here to learn more about the application and selection process.
 CORE Training Information
If you are interested in pursuing a career as a Certified Recovery Support Practitioner in the mental health or co-occurring disorders fields, and you are a consumer in recovery, you are eligible to apply for possible admission to the CORE training.  The 108 hours of CORE training and 18 hours of WRAP will satisfy the educational component for the Certified Recovery Support Practitioner (CRSP) credential. If selected to participate in the CORE training, students will be required to attend 22 specified days of training.
Contact Chrissy Schayer, Director, at (848) 480-0916 for additional information.
 (Promoting Emotional Wellness and Spirituality)
The PEWS Program (Promoting Emotional Wellness and Spirituality) educates members of the clergy, lay leaders and houses of worship to better recognize mental illness and how to link  members to resources. It promotes emotional wellness by embracing the mind, body and spirit approach while addressing the stigma surrounding mental illness. PEWS may assist faith-based communities in starting PEWS Mental Health auxiliaries.
For more about the PEWS Program contact Laverne Williams at lwilliams@mhanj.org or 973-571-4100, ext. 130.
COMMUNITY SUPPORT
 

WRAP (Wellness Recovery Action Plan)
WRAP (Wellness Recovery Action Plan) is a program developed by Mary Ellen Copeland, Ph.D., that helps those who experience psychiatric symptoms to take action on their own behalf to maintain wellness and improve the quality of their lives. WRAP is based on the key recovery concepts of hope, personal responsibility, education, self-advocacy, and support. WRAP workshops for consumers can be arranged on site as well as pieces of training to offer technical assistance to mental health providers who would like to incorporate WRAP into their programs. Topics include the key concepts of recovery, how to develop each section of WRAP, and strategies to assist and support consumers in developing a WRAP and utilizing the plan in their daily lives.
Please note, this training does not provide the certification to become a WRAP facilitator.
For more information about scheduling a WRAP class or training at your site, contact Laverne Williams at lwilliams@mhanj.org or 973-571-4100, ext. 130.
  Intensive Family Support Services
Intensive Family Support Services (IFSS) of the Mental Health Association in New Jersey is designed to assist families with adult children who have mental illness learn to cope with the situation. Understanding and coping with a family member's mental illness can be a painful and challenging journey. IFFS can provide information and support to help families cope.
For more information contact Joyce Benz at jbenz@mhanj.org or 908-810-1001, ext. 310, for Union County or Megan Schweer at mschweer@mhanj.org or 609-652-3800, ext. 301, for Atlantic County.

Helpline
NJMentalHealthCares is New Jersey's mental health information and referral service. Our staff of mental health professionals uses their experience and understanding of the mental health system to provide callers with information and connect them to the mental health services they need, such as legal, housing, employment, rehabilitation, inpatient and outpatient, self-help and more.
The Mental Health Association in New Jersey's New Jersey MentalHealthCares Helpline also began to accept calls during its regular hours (weekdays, 8 am to 8 pm) to the National Suicide Prevention Lifeline. The average answer time for a call is 15 seconds or less.
About NJMentalHealthCares:
• 1-866-202-HELP(4357) (TTY 1-877-294-4356) — free, confidential mental health information and referral.
• Live service is provided from 8 a.m. to 12 a.m. daily; other times callers may leave a message for a return call.
• NJMentalHealthCares does not provide crisis intervention. For emergencies call 911!
• Calls are answered by a knowledgeable mental health professional.
• They use the most up-to-date listing of NJ's public mental health services.
• Callers may search an on-line database.
• There is a follow-up to assure satisfaction with referrals.
• Calls may be transferred to a service; the counselor may stay on the line until the caller is comfortable.
Click here for more information about NJMentalHealthCares.
NJMentalHealthCares is a service of the Mental Health Association in New Jersey funded by the NJ Department of Human Services, Division of Mental Health and Addiction Services.
   Self-Help Groups
MHANJ runs a variety of self-help support groups which are organized and managed by persons in recovery from mental illness. Groups tend to be short-term and are offered on a rotating basis. Examples of groups offered are Double Trouble (for individuals with mental illness and substance abuse issues), Stages of Loss to Recovery and Wellness Groups.
For more information about self-help groups contact Carolyn Quinn at cquinn@mhanj.org or 609-652-3800 ext. 303 for Atlantic County, Jackie Baxley at jbaxley@mhanj.org or 908-810-1001, ext. 2 for Union County or 201-653-4700 for Hudson County or Rachael O'Dea, BS, AMTP, DRCC, at rodea@mhanj.org or 732-244-0940 for Ocean County.
   Self-Help Centers
Self Help Centers: ICE (Atlantic County), Journey to Wellness (Ocean County) and Esperanza (Union County) are places where mental health consumers can go to feel safe and relaxed and learn how to plan their own recovery. Self-Help Centers provide an environment of mutual support and empowerment that promotes wellness, which is a state of social, spiritual, mental/emotional, intellectual, vocational and physical health.
For more information contact Carolyn Quinn at cquinn@mhanj.org or 609-652-3800, ext. 303 for Atlantic County, Jackie Baxley at jbaxley@mhanj.org or 908-810-1001, ext. 2 for Union or Hudson Counties or Michelle Price at mprice@mhanj.org or 732-244-0940 for Ocean County.
      Self-Help Group Clearinghouse
The New Jersey Self-Help Group Clearinghouse was started in 1981 as the first statewide operation of its kind in the country. The mission of the Clearinghouse is to help people find and form all types of self-help support groups in order to provide hope, strength, and experience to those in need in order to not feel alone.
We offer the following services:
INFORMATION ON SELF-HELP SUPPORT GROUPS – We maintain a database of over 8,600 self-help group meetings statewide, as well as over 1,000 national self-help group headquarters, online and telephone groups, and networks.
IDEAS AND SUGGESTIONS ON DEVELOPING GROUPS – Many new groups are started each year with the assistance of the Clearinghouse. Our staff can help you with ideas and suggestions over the phone and through email or "snail mail". We have a vast library of how-tos on starting and running groups in general, as well as specific types of groups.
TRAINING – We offer periodic workshops throughout the state on topics of interest to those starting, running and maintaining support groups.
PRESENTATIONS ABOUT SUPPORT GROUPS – We provide free presentations on the availability and benefits of self-help support groups and how they can assist your clients, customers, congregants, families, and friends.
WEBSITE – We include information of interest to group leaders, professionals who make referrals to groups, to those interested in starting new groups, and the general community. We also have contact information on support groups in New Jersey on our website at www.NJGroups.org
DISASTER RESPONSE

Helpline
In response to the September 11 disaster and later Hurricane Sandy, a toll-free Helpline was established and is maintained through the Mental Health Association in New Jersey as a resource for persons seeking mental health services and information regarding disaster-related trauma.  The Helpline continues to support the services of the Disaster and Terrorism Branch during times of declared disasters or incidents that significantly affect New Jersey's communities. The Helpline has language access and 24-hour capability.
Call 877-294-HELP (4357), TTY 877-294-4356 for assistance. Hours of operation are 8 a.m. to 8 p.m. Monday through Friday, and 10 a.m. to 5 p.m. on Saturday and Sunday.
Crisis Counseling Certification
NJ Disaster Response Crisis Counselor Certification is available. Working with the New Jersey Division of Mental Health Services and the New Jersey Certification Board, the MHANJ provides trauma-related training for New Jersey residents interested in becoming Certified Disaster Response Crisis Counselors.
To register for Disaster Mental Health trainings and apply for your NJ DRCC Certification visit www.njdisasterresponsecrisiscounselor.org