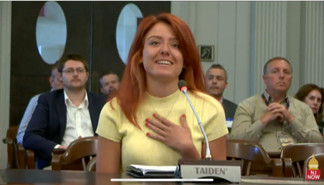 The MHANJ Government Affairs (GA) Team works to ensure that New Jersey residents have access to quality behavioral health care (mental health and substance use).
The GA team manages MHANJ's advocacy, legislative and public policy work on the state and national level. We advocate for integrated behavioral and physical health care, and we are proactive in supporting parity for behavioral health with physical health care. This is accomplished through working with legislators and key governmental leadership officials assuring a strong peer/consumer voice while supporting choice and the rights of individuals. The GA team operates under the core belief that wellness and recovery are attainable for everyone.
How Can You Help?
The advocacy of MHANJ's Government Affairs team aims to drive systemic change across New Jersey's system of behavioral health care while amplifying the voices of individuals, families, and loved ones affected by behavioral health conditions.  The efforts made by the GA team are strengthened by collaboration and coordination with fellow advocates and members of the community, many of whom have lived experiences related to mental illness and/or substance use.  It is the position of MHANJ's GA team that our work is most effective when we can involve the people we serve.
Your voice can make a difference.  From making a phone call, to writing a letter, to interacting with legislators and policymakers, the GA team wants you to know that there is always an opportunity to participate in meaningful grassroots advocacy.
To learn more about how you can help and make your voice heard, please contact:
Amanda Kolacy, Community Advocate at akolacy@mhanj.org or (732)-882-3300.
Click here to subscribe to our Cutting Edge newsletter and advocacy e-blasts.