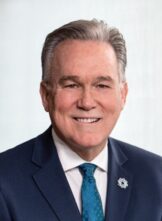 Donald J. Parker, LCSW, President of Behavioral Health Care Transformation Services for Hackensack Meridian Health,
to be Honored by Mental Health Association in New Jersey
The Mental Health Association in New Jersey (MHANJ) is pleased to announce that Donald J. Parker, LCSW, has been chosen as an honoree for its 23rd Annual Evening of Excellence. This prestigious event will be held on Wednesday, November 15, 2023, at the Park Savoy Estate in Florham Park.
Mr. Parker is being honored for his pioneering work in behavioral healthcare including developing innovative approaches and models of integrated care.
Carolyn Beauchamp, President and CEO of the MHANJ, stated, "Donald Parker stands out as a behavioral health leader in New Jersey. He has developed pathways to care that have changed the lives of many."
Donald Parker said, "I am thrilled by my selection as an honoree of the Mental Health Association in New Jersey.  Anytime you are selected by your colleagues in behavioral health and you get to follow your mentors, like Jim Lape (former Senior Vice President of Trinitas Regional Medical Center) and Carolyn Beauchamp, for me, it is a special honor!"
Throughout Mr. Parker's career, he has employed his unique perspective to ensure the most compassionate care possible for patients. Under his direction, in 2019, Hackensack Meridian Health introduced behavioral health care to the physical health urgent care setting for the first time. Located in Neptune, New Jersey, the center provides access to psychiatric nurse practitioners on the premises and a psychiatrist available through telemedicine.
As the leader of Hackensack Meridian Health's Carrier Clinic for 12 years, Mr. Parker has expanded and further developed its scope of service and variety of therapies. Modalities such as music, movement, yoga and horticulture as well as therapies and interaction with animals, including goats, peacocks, guinea hens, dogs and horses complement traditional talk therapy and medication. He has instituted unique art projects for patients and creative approaches to the renovation of old buildings.
Prior to joining Hackensack Meridian Health in 2013, Mr. Parker served as the Vice President for Physician Services and Ambulatory Care at St. Joseph's Health System, Paterson, New Jersey. Previously, he held multiple leadership roles at AtlantiCare Health System, including serving as President/CEO of AtlantiCare Behavioral Health for 15 years and President of AtlantiCare Health Services for 10 years, opening the first convenient care center (Healthrite), the first urgent care center and the first medically integrated health and fitness centers in New Jersey.
Mr. Parker is currently the Chairman of the National Association of Psychiatric Health Systems Foundation, and has served on numerous public and private boards, chairing the New Jersey Association of Mental Health and Addiction Services Board for two terms. His many honors include two leadership awards from the New Jersey Association of Mental Health and Addiction Agencies, a "Distinguished Career" Award in 2022 from the New Jersey Hospital Association, a "Lifetime Achievement Award" in 2022 from NJBIZ and a prior top Influencer in Healthcare recognition from NJBIZ and ROI-NJ for the last five years.  He was also honored by Preferred Behavioral Health, The Boy Scouts of America, the Bedside Harp Program, and the Atlantic and Somerset County Board of Commissioners for his volunteer activities.
Mr. Parker and his wife, Susan Curcio, Esq., live in Southern New Jersey. They have four adult children and nine grandsons.
About the Mental Health Association in New Jersey's Evening of Excellence
The Mental Health Association in New Jersey's 23rd Annual Evening of Excellence is a crucial fundraiser for the organization. Proceeds from the event will support our advocacy efforts in behavioral health. The MHANJ is grateful to sponsors of this event, including RWJBarnabas Health, Hackensack Meridian Health, Inserra Supermarkets, Janine and Dan Kane, United Healthcare, Community Access Unlimited, Delta Dental, Steven E. Geltzeiler, Lexpath, Lundbeck, MikeWorldWide and Zelis.
The Mental Health Association in New Jersey is a statewide non-profit organization whose mission is to strive for children and adults to achieve victory over mental illness and substance use disorders through advocacy, education, training and services. Its state headquarters is in Union County. It has additional locations in Atlantic, Hudson and Ocean Counties, and affiliates in Essex, Monmouth, Morris, and Passaic Counties. For more information visit https://www.mhanj.org/.
Click here to visit our website for more information about the MHANJ. If you have any questions, please call us at 973-571-4100, ext. 123.