988 Community Crisis Continuum
Need Support Now?
If you or someone you know are having thoughts of suicide
or need mental health-related crisis support:
Please call or text

988

or visit the National Suicide Prevention Lifeline chat to connect with a trained crisis counselor.
---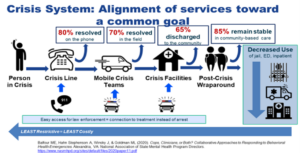 988 is the new nationwide 3-digit dialing code for Mental Health Crisis and Suicide Prevention.
In 2020, the National Suicide Hotline Designation Act instituted 988 as the new three-digit phone number for the National Suicide Prevention Lifeline (NSPL) (Read here: congress.gov/NSPL). The Mental Health Association in New Jersey (MHANJ) supports the establishment of the 988 line, as well as community-based mobile crisis teams to create a much-needed behavioral health crisis response system within our state. It is the position of MHANJ that instituting a full continuum of behavioral health crisis care in New Jersey will help to keep individuals in the community, to reduce hospitalizations and incarcerations related to behavioral health crises, and to connect and engage individuals in behavioral health services.
MHANJ has been a key influencer in creating state legislation to establish the 988 line and mobile crisis teams within New Jersey.  Below is an archive of resources written by the GA team regarding 988, community mobile crisis teams, and building a full continuum of community crisis care in New Jersey:
---
MHANJ Backgrounder, April 20, 2020: 
Right Click See Intro Below, Click here to Read More: The Mental Health Community Crisis Continuum and The Importance of Community Mobile Crisis Teams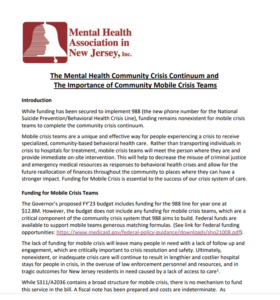 ---
For more information about 988 and the community crisis continuum of care, please contact:
Barb Johnston, Director, Policy & Advocacy, bjohnston@mhanj.org
Amanda Kolacy, Community Advocate, akolacy@mhanj.org