Help for Mental Health and Substance Use Disorder

Helpline
NJMentalHealthCares is New Jersey's mental health information and referral service. Our staff of mental health professionals uses their experience and understanding of the mental health system to provide callers with information and connect them to the mental health services they need, such as legal, housing, employment, rehabilitation, inpatient and outpatient, self-help and more.
The Mental Health Association in New Jersey's New Jersey MentalHealthCares Helpline also began to accept calls during its regular hours (weekdays, 8 am to 8 pm) to the National Suicide Prevention Lifeline. The average answer time for a call is 15 seconds or less.
About NJMentalHealthCares:
• 1-866-202-HELP(4357) (TTY 1-877-294-4356) — free, confidential mental health information and referral.
• Live service is provided from 8 a.m. to 12 a.m. daily; other times callers may leave a message for a return call.
• NJMentalHealthCares does not provide crisis intervention. For emergencies call 911!
• Calls are answered by a knowledgeable mental health professional.
• They use the most up-to-date listing of NJ's public mental health services.
• Callers may search an on-line database.
• There is a follow-up to assure satisfaction with referrals.
• Calls may be transferred to a service; the counselor may stay on the line until the caller is comfortable.
Click here for more information about NJMentalHealthCares.
NJMentalHealthCares is a service of the Mental Health Association in New Jersey funded by the NJ Department of Human Services, Division of Mental Health and Addiction Services.

The NJ Connect for Recovery Call Line focuses on helping people who are concerned about a family or friend whose loved one has a substance use disorder. This service is a safe, confidential, nonjudgmental forum that New Jerseyans may call to connect, grow and transform through a unique combination of supportive counseling from Certified Alcohol and Drug Counselors and Peer Specialists.

The Mental Health Association in New Jersey's (MHANJ's) NJ Connect for Recovery Call Line is pleased to announce expanded weekday hours to increase access to guidance for people coping with opiate addiction and their family members.
New Hours for NJ Connect for RecoveryCall Line,
855-652-3737:
Weekdays, 8 a.m. to 10 p.m.
Weekends, 5 p.m. to 10 p.m.
Holidays, 3 p.m. to 10 p.m.
The expanded hours further
NJ Connect for Recovery's collaboration with ReachNJ, Rutgers' Interim Managing Entity addiction treatment initiative and the Children's System of Care, all of which are dedicated to helping those affected by New Jersey's heroin and prescription painkiller addiction crisis. This alliance was established to assure a strong, seamless system of providing emotional support, education, access to treatment, and ongoing family and peer guidance – all so critical to addressing this issue in our state. Learn more at 
njconnectforrecovery.org.
NJ Connect for Recovery provides:
Nonjudgmental support
Family support/education groups
Immediate and ongoing assistance
Certified Alcohol and Drug Counselors
Peer Specialists who understand the effects of addiction on the family
Multilingual and TTY services available
The MHANJ's NJ Connect for Recovery is made possible with funding from
the New Jersey Division of Mental Health and Addiction Services. 
  
Self-Help Group Clearinghouse
The New Jersey Self-Help Group Clearinghouse was started in 1981 as the first statewide operation of its kind in the country. The mission of the Clearinghouse is to help people find and form all types of self-help support groups in order to provide hope, strength, and experience to those in need in order to not feel alone.
We offer the following services:
INFORMATION ON SELF-HELP SUPPORT GROUPS – We maintain a database of over 8,600 self-help group meetings statewide, as well as over 1,000 national self-help group headquarters, online and telephone groups, and networks.
IDEAS AND SUGGESTIONS FOR DEVELOPING GROUPS – Many new groups are started each year with the assistance of the Clearinghouse. Our staff can help you with ideas and suggestions over the phone and through email or "snail mail". We have a vast library of how-tos on starting and running groups in general, as well as specific types of groups.
TRAINING – We offer periodic workshops throughout the state on topics of interest to those starting, running and maintaining support groups.
PRESENTATIONS ABOUT SUPPORT GROUPS – We provide free presentations on the availability and benefits of self-help support groups and how they can assist your clients, customers, congregants, families, and friends.
WEBSITE – We include information of interest to group leaders, professionals who make referrals to groups, to those interested in starting new groups, and the general community. We also have contact information on support groups in New Jersey on our website at www.NJGroups.org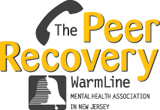 The Peer Recovery WarmLine




answered by trained mental health consumers
Call us for support and information
Monday–Friday 8 a.m. to 10 p.m.
Saturday–Sunday 5 p.m. to 10 p.m. Holidays–3 p.m. to 10 p.m.
Peer Recovery WarmLine (PRW) )is a peer-run service providing ongoing telephone support to mental health consumers as they work towards their recovery. All calls are answered by peers who are trained, supportive mental health consumers. PRW is live Monday through Friday, 8 am to 10 pm, Saturday and Sunday, 5 pm to 10 pm, and holidays, 3 pm to 10 pm. At the Peer Recovery WarmLine, we try to get to know you as a person and how you view your world.
PRW uses the Intentional Peer Support model, which stresses mutual support of each other's recovery and talking about your own "story" in a way that helps the recovery process for both you and the peer you are speaking with. If you need it, the PRW will also provide mental health-related information and referral. PRW has peers who are available to train individuals, groups, and agencies on how to use the concepts of WRAP and Intentional Peer Support in their daily lives in order to encourage recovery and the development and sustainment of supportive interpersonal relationships.
For more information about the Peer Recovery WarmLine contact Julie McMillan at jmcmillan@mhanj.org or call 877.292.5588. To comment on the Peer Recovery WarmLine send an e-mail toPRWfeedback@mhanj.org