Peer and Family Services
Peer Outreach Support Teams (POST)

Through one to one peer support and the facilitation of groups, Peer Outreach Support Team (POST) members provide education, advocacy and linkage to mental health treatment, housing, entitlements and self-help groups.  By acting as positive role models for recovery, POST workers encourage peers to take responsibility for their own wellness.
For more information about POST: in Atlantic County, contact Victoria Phillips at vphillips@mhanj.org or 609-652-3800, ext. 307; in Hudson County and Union Counties, contact Jill Schlossberg at jschlossberg@mhanj.org or 201-275-0207; and in Ocean County, contact Michelle Price at mprice@mhanj.org or 732-244-0940.
Peer Recovery Warmline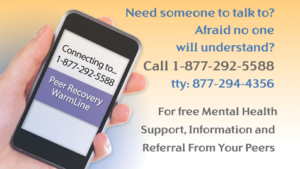 Peer Recovery WarmLine (PRW) is a peer-run service providing ongoing telephone support to mental health consumers as they work towards their recovery. All calls are answered by peers who are trained, supportive mental health consumers. PRW is live Monday to Friday, 8 am to 10 pm, Saturday and Sunday, 5 pm to 10 pm, and holidays, 3 pm to 10 pm. At the Peer Recovery WarmLine we try to get to know you as a person and how you view your world.
PRW uses the Intentional Peer Support model, which stresses mutual support of each other's recovery and talking about your own "story" in a way that helps the recovery process for both you and the peer you are speaking with. If you need it, the PRW will also provide mental health-related information and referral. PRW has peers who are available to train individuals, groups, and agencies on how to use the concepts of WRAP and Intentional Peer Support in their daily lives in order to encourage recovery and the development and sustainment of supportive interpersonal relationships.
For more information about the Peer Recovery WarmLine contact the Julie McMillan at jmcmillan@mhanj.org or call 877.292.5588.
To comment on the Peer Recovery WarmLine send an e-mail to PRWfeedback@mhanj.org
  Intensive Family Support Services
Intensive Family Support Services (IFSS) of the Mental Health Association in New Jersey is designed to assist families with adult children who have mental illness learn to cope with the situation. Understanding and coping with a family member's mental illness can be a painful and challenging journey. IFFS can provide information and support to help families cope.
For more information contact Joyce Benz at jbenz@mhanj.org or 973-571-4100, ext. 118, for Union County or Megan Schweer at mschweer@mhanj.org or 609-652-3800, ext. 301, for Atlantic County.
Consumer Connections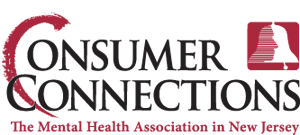 Consumer Connections is a nationally recognized program which recruits, trains, and supports consumers of mental health services working to become providers of mental health services. The program works with mental health providers in New Jersey to expand employment opportunities for consumer providers. Consumer Connections offers courses which meet the educational requirements and lead to Certification as a Recovery Support Practitioner (CRSP).  For more information on the CRSP certification, please visitwww.certbd.org.   For more information on Consumer Connections please email consumerconnections@mhanj.org; or contact Chrissy Schayer, Director, at (732) 451-4457
Mission Statement
Consumer Connections, a program of the Mental Health Association in New Jersey, is dedicated to strengthening and expanding peer workforce development. Through the creation of high-quality training and educational opportunities, our goal is to empower individuals working as Peer Specialists to use their lived experience to support others in moving toward wellness and recovery.
Vision Statement
To offer state of the art training and support to peers seeking to develop the skills and competencies necessary to work as Peer Recovery Specialists in the State of NJ.
Click here to learn more about applying to the CORE training!