MHANJ and Prevention Links Launch New Partnership Bringing the Hope of Employment to People Impacted by Opiate Use Disorder and their Family Members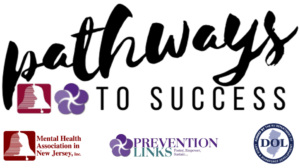 Landing and keeping a job can be a challenging for anyone, and especially difficult for people in recovery from opiate use disorder. The problem is real in Hudson County, where 41% of substance use disorder treatment admissions were attributed to heroine and other opiates in 2019. Many times, their loved ones, consumed with caring for the individual, face similar employment hurdles. Two well-established non-profit organizations are joining forces to help create change for the better.
Prevention Links and the Mental Health Association in New Jersey (MHANJ) are pleased to launch a new partnership to bring a proven-successful supportive employment program to the region. This program, entitled Pathways to Success, helps people impacted by opiate use disorder and their family members find gainful and long-term employment. Free to eligible Hudson County residents, the Pathways to Recovery program is financed 100% with WIOA National Dislocated Worker NEG federal funding totaling $3,000,000.
About Pathways to Success in Hudson County
Pathways to Success offers a comprehensive array of free employment services, such as the development of an Individual Employment Plan with personalized, one-on-one guidance throughout the job search and application process, direct links to hiring employers and participant financial assistance and ongoing employment support once employment is attained. To help increase marketable experience, Pathways offers education and training in a broad range of fields and presents the opportunity to earn credentials that are valued in various industries. Additional elements may include items such as short-term transportation assistance, free interview attire and wellness and recovery strategies.
Pathways to Success participants interested in working in the field of behavioral health may pursue a component of the program called the Power of Peers (POP). The first of its kind in New Jersey, POP features a comprehensive educational and credentialing track that prepares individuals to work in New Jersey as Certified Peer Specialists who helping others in recovery from substance use, mental health, and/or co-occurring disorders. It includes an internship with additional work experience, a practicum, education, supervision and on-the-job training that meets the 500 hours of internship requirement to pursue New Jersey Peer Certification.
Eligibility for Pathways to Success
Hudson County residents aged 18 and older who are unemployed and have been directly or indirectly impacted by opioid use are eligible to participate. A valid driver's license (or utility bill with address) or photo I.D., social security card and birth certificate are required to enroll.
While the exact name of the program may differ, similar Pathways to Recovery initiatives are also available in New Jersey in Atlantic, Camden, Essex, Middlesex, Monmouth, Ocean, Passaic, and Union Counties.
"Research has shown people are more likely to remain in recovery if they believe they can find success in the workplace, which provides a much-needed layer of security and self-respect," said New Jersey Department of Labor and Workforce Development Commissioner Robert Asaro-Angelo. "We are excited to partner with Hudson County on the Pathways to Success initiative, which invests in our workforce in recovery."
"Here in Hudson County we understand that individuals and families affected by opioid use disorder need assistance, support and resources beyond treatment—that assuredly must include both educational and employment resources," said Hudson County Executive Tom DeGise. "That's why we are glad to welcome Pathways to Success to Hudson County. I am convinced it will be an effective compliment to the services we offer now to support those in recovery and those who love them. Our thanks to Prevention Links and MHANJ for partnering to bring this valuable free program to Hudson County."
Pathways to Success Program Celebrates Track Record in Ocean County
"Launched in July of 2019, 100% of participants of the Mental Health Association in New Jersey's Pathways to Success Program in Ocean County received supportive services, individualized employment assistance, free training and credentialing and recovery support. An impressive 70% of the more than 100 Ocean County residents assisted through this program got jobs and remain employed," said MHANJ's President and CEO Carolyn Beauchamp. "We are pleased to join with Prevention Links, to bring this win/win opportunity to the residents of Hudson County."
"We have found that people are especially interested in several of the training components of the program that lead to credentials in fields such as behavioral health, customer service, and technology. Based on qualifications afforded through Pathways to Success in Ocean County, the MHANJ has even been able to employ some of our peer graduates," stated MHANJ's Deputy Chief Operating Officer Racheal O'Dea.
"Prevention Links has been privileged to serve this community for a number of years through our Liberty and Skyway Family Success Centers, and the most striking quality of the Hudson County community is the richness of its diversity. We are proud to offer a service through Pathways to Success that is responsive to the diverse needs of individuals and families who call Hudson County home," said Prevention Links CEO Morgan Thompson.
"The Pathways to Success program has helped me regain the focus and motivation to push through what was holding me back, assisted me in finding the perfect career, as well as helping me to improve my confidence in all aspects of my life. I am forever grateful for MHANJ and the Pathways Program," said Pathways to Success in Ocean County Participant, Power of Peers graduate and now, a Peer Recovery Specialist for the MHANJ Jennifer Gallagher.
 Another Pathways to Success in Ocean County and Power of Peers program participant, Mandy L. Strauss, added, "Everyone in the Pathways program is terrific to work with. They gave me the confidence to explore employment choices outside my comfort zone and have the confidence in myself to know I can excel at those choices. Pathways has led me to pursue an entirely new career path. Being involved with the Pathways program has been a wonderful experience."
For more information regarding Pathways to Success, Power of Peers, or Peer Credentialing please email rodea@mhanj.org or call 732-244-0940.
About Us
Prevention Links' mission is to foster, healthy, sustainable communities by empowering people through education, collaboration and linkages to resources. For more information visit https://preventionlinks.org/
The Mental Health Association in New Jersey is a statewide non-profit organization that strives for children and adults to achieve victory over mental health and substance use disorders through advocacy, education, training, and services. For more information visit https://www.mhanj.org/