Our Call Lines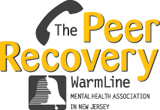 The Peer Recovery WarmLine
is answered by trained mental health peers, people with lived experience who are in recovery.
Call us for support and information
Monday–Friday 8 a.m. to 10 p.m.
Saturday–Sunday 5 p.m. to 10 p.m. Holidays–3 p.m. to 10 p.m.
Peer Recovery WarmLine (PRW) )is a peer-run service providing ongoing telephone support to mental health consumers as they work towards their recovery. All calls are answered by peers who are trained, supportive people with lived experience with mental health disorder. PRW is live Monday through Friday, 8 am to 10 pm, Saturday and Sunday, 5 pm to 10 pm, and holidays, 3 pm to 10 pm. At the Peer Recovery WarmLine we try to get to know you as a person and how you view your world.
PRW uses the Intentional Peer Support model, which stresses mutual support of each other's recovery and talking about your own "story" in a way that helps the recovery process for both you and the peer on the other end of the phone. If you need it, the PRW will also provide mental health-related information and referral. PRW has peers who are available to train individuals, groups, and agencies on how to use the concepts of WRAP and Intentional Peer Support in their daily lives in order to encourage recovery and the development and sustainment of supportive interpersonal relationships.
For more information about the Peer Recovery WarmLine contact Julie McMillan at jmcmillan@mhanj.org or call 877.292.5588. To comment on the Peer Recovery WarmLine send an e-mail toPRWfeedback@mhanj.org

NJ Connect for Recovery Call Line
Are you worried about a family member or friend who has a substance use disorder?
Call us for help.
The NJ Connect for Recovery Call Line focuses on helping people who are experiencing distress related to the substance use disorder of a family member or friend.  This service is a safe, confidential, nonjudgmental forum that New Jerseyans may call to connect, grow and transform through a unique combination of supportive counseling from Certified Alcohol and Drug Counselors and Peer Specialists.
Call for free, confidential mental health information and referrals.
NJMentalHealthCares is New Jersey's behavioral health information and referral service. Our staff of specialists uses their experience and understanding of the behavioral health system to provide callers information and connect them to the behavioral health and services they need, such as legal, housing, employment, rehabilitation, inpatient and outpatient, self-help and more. Our professional staff also provides supportive counseling, psycho-education, advocacy, and telephone case management to ensure every caller is linked to their desired service plan.
NJ Disaster Mental Health Helpline
Hours of operation are 8 a.m. to 8 p.m. Monday through Friday,
and 10 a.m. to 5 p.m. on Saturday and Sunday.
NJ Disaster Mental Health Helpline provides public access to targeted mental health services in case of natural or man-made disaster or terrorist attack. The helpline is equipped to quickly develop resources to better assist New Jersey's affected populations.