New Jersey Hope and Healing for COVID-19 Pandemic
Is the COVID-19 Pandemic causing emotional distress?
New Jersey Hope and Healing is here for you.

The Mental Health Association in New Jersey, in collaboration with the New Jersey Department of Human Services' Division of Mental Health and Addiction Services, Disaster and Terrorism Branch, offers emotional support, information and referral through a Federal Emergency Management Agency (FEMA/SAMHSA) grant.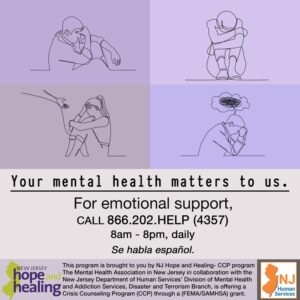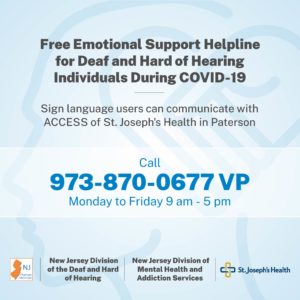 About the New Jersey Hope and Healing Crisis Counseling Program
The mission of the Crisis Counseling Program (CCP) is to assist individuals and communities in recovering from the effects of natural and human-caused disasters through the provision of community-based outreach and psycho-educational services. The CCP supports short-term interventions that involve the counseling goals of assisting disaster survivors in understanding their current situation and reactions, mitigating stress, assisting survivors in reviewing their disaster recovery options, promoting the use or development of coping strategies, providing emotional support, and encouraging linkages with other individuals and agencies who may help survivors in their recovery process (recover to their pre-disaster level of functioning):
Services Include:
NJ Mental Health Cares Helpline, 866-202-HELP (4357)

Crisis Counseling

Group Education, Connection and Emotional Support
If you have a question please email info@mhanj.org.
Links to Media Articles
Jaime Angelini Explains the MHANJ's New Jersey Hope and Healing Services in Podcast Interview
New Jersey Hope and Healing Offers Emotional Support Amid COVID-19
"Boomer Hour" and Other Virtual Support Groups Ease Feelings of Isolation During COVID-19 Crisis
Program Provides Support Services to Those Dealing with Challenges Related to COVID-19
Mental Health Resources are Available to Employees as COVID-19 Uncertainty Looms
Free Mental Health Resources Available to NJ Residents in this Difficult Time
Links to Key Resources and Information
Novel Coronavirus Information, NJ Department of Human Services
Mental Health and Coping During COVID-19, from the CDC
Supporting Mental Health During the COVID-19 Pandemic, NIMH
COVID-19 and Your Mental Health, Mayo Clinic
Protective and Risk Factors for Toxic Stress, Mental Health America
Mental Health and Psychosocial Considerations During the COVID-19 Outbreak, WHO
[/vc_column_text][/vc_column][/vc_row]