May is Mental Health Month 2021

Addressing Mental Health Before Stage 4 (#B4Stage4)
When we think about cancer, heart disease, or diabetes, we don't wait years to treat them. We start before Stage 4—we begin with prevention. When people are in the first stage of those diseases, and are beginning to show signs of symptoms like a persistent cough, high blood pressure, or high blood sugar, we try immediately to reverse these symptoms. We don't ignore them. In fact, we develop a plan of action to reverse and sometimes stop the progression of the disease. So why aren't we doing the same for individuals who are dealing with potentially serious mental illness? When you or someone close to you starts to experience the early warning signs of mental illness, knowing what the risk factors and symptoms are will help to catch them early. Often times, family and friends are the first to step in to support a person through these early stages. Experiencing symptoms such as loss of sleep, feeling tired for no reason, feeling low, feeling anxious, or hearing voices, shouldn't be ignored or brushed aside in the hopes that they go away. Like other diseases, we need to address these symptoms early, identify the underlying disease, and plan an appropriate course of action on a path towards overall health. Mental health conditions should be addressed long before they reach the most critical points in the disease process—before Stage 4.  Click here to read more.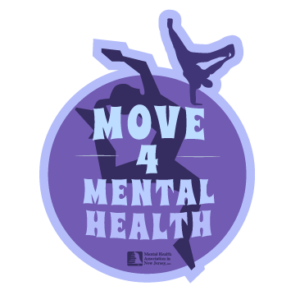 Join MHANJ's Move4Mental Health Initiative for Mental Health Month
It's easy and fun!  Simply post a short 30 -60 second video of movement, dance, exercise, etc.… while displaying the logo and hashtags. Post your videos on social media platforms. Facebook, Instagram and Tik Tok. Using the hashtags # move4mentalhealth #b4stage4 #mhanj #mentalhealthmonth. Join us to:
1- To highlight the importance of physical activity and exercise on your mental health,
2- The connection between movement and your mood.
3- Your feelings can influence your movement.  Your movement can affect your feelings.
4- To pro-actively prepare for our post-pandemic emotional well-being.