MHANJ in Ocean County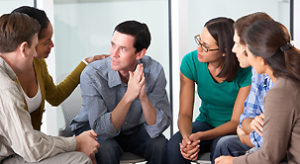 Home base for the Mental Health Association in New Jersey (MHANJ) in Ocean County is a bustling office in Toms River. Their focus is education and support for members of the community who enter recovery from mental illness and/or substance abuse. The staff's enthusiasm goes far in efforts to engage and assist the center's participants who, themselves, are eager to learn and grow.  All of the staff and volunteers in our Ocean satellite are mental health consumers who serve as role models for their peers.
The MHANJ is a statewide non-profit organization that strives for mental health for children and adults through advocacy, education, training, and services. Since 1948, the MHANJ has fulfilled its mission by responding to issues raised by consumers of mental health services, working for changes and promoting policies that protect their rights and fighting the stigma that makes mental health recovery difficult. The MHANJ also provides programs that directly assist consumers in need, reducing the strain on limited government resources.
We continue to be a driving force in our advocacy efforts, working to ensure that mental health consumers have a voice.
Services Available in Ocean County and Statewide
Peer Outreach Support Teams (POST) assist mental health and/or substance abuse consumers in their daily lives in the community.
POST workers are people in recovery from mental illness who serve as recovery role models. They have received specialized training preparing them to provide individual emotional support, information and links to mental health, medical, housing, employment services and facilitate self-help programs.
POST's community outreach team runs groups, training, and meetings in many of the outpatient programs in Ocean County. They also offer services to residents in three boarding homes such as facilitating recreational activities for them and transporting them to the Journey to Wellness Self Help Center.
Community Outreach and Discharge Planning are provided on a regular basis. POST team members work in partnership with Saint Barnabas Behavioral Health in Toms River to offer guidance and support to mental health consumers as they transition out of short-term care. The POST team may play an important role in the consumer's discharge, helping them to "bridge the gap" between hospital care and life back in the community. For example, POST workers may arrange for such necessities as transportation and offer assistance with arranging for other essential needs such as food and housing.
Journey to Wellness is a self-help center featuring groups that are organized and managed by peers, persons in recovery from mental illness and/ or substance abuse.  Some groups are offered on a short-term basis while others are ongoing. Topics include Double Trouble (for individuals with mental illness and substance abuse issues), Dimensions of Wellness, Key Concepts, and WRAP (Wellness Recovery Action Plan).
Tools for Success features individuals from the community with expertise in career management who generously share their knowledge to provide support to group members in career transition. Made possible through the New Jersey Department of Labor, Tools for Success is designated to assist people who have mental illness and/or substance abuse problems who are at risk of losing their benefits. Participants may learn such skills as how to write a resume, gain access to job openings at partner facilities and have the opportunity to use computers and informational resources on a drop-in basis.
Journey to Success is a component of the program that is an employment support group which also provides a "safe" place for participants to gain valuable skills through educational programs, discussions and socialization activities including weekly dinner between Wellness meetings and outings to local events and holiday parties. The group is maintained by Tools for Success graduates and Journey to Wellness volunteers who provide leadership, hospitality and employment search support.
Advocacy
The MHANJ's Government Affairs department is the leader in advocacy for New Jersey mental health system initiatives. We work at the state and federal levels to improve policies and government responsiveness to consumer needs.
Community Education
The MHANJ's Community Education Department uses an engaging approach to educate the public about mental health issues, fight stigma and promote mental wellness. A variety of topics and customized programs are available to meet the specific needs of an organization. (Statewide)
• Mental Health First Aid is a public education program that introduces participants to risk factors and warning signs of mental illnesses, builds an understanding of their impact, and provides information about common
supports. This eight-hour course uses role-playing and simulations to demonstrate how to offer initial help in a mental health crisis and connect persons to the appropriate professional, peer, social and self-help care. The
program covers specific types of illness including anxiety, depression, substance use, bipolar disorder, eating disorders and schizophrenia. Mental Health First Aid is included in the Substance Abuse and Mental Health Services Administration's National Registry of Evidence-based Programs and Practices (NREPP). The MHANJ has certified staff available to provide training.
• Educational presentations are available on-site at schools, health fairs, businesses and community organizations. Topics include Wellness Recovery Action Plan (WRAP), a personal roadmap for recovery; and Hearing Distressing Voices, a simulated experience that incites an understanding of challenges faced by those with psychiatric problems; and many others.
• The MHANJ's Mental Health Players program uses trained volunteers to present interactive role plays simulating mental health issues and facilitate guided discussion on the topics.
The MHANJ's Consumer Connections is a nationally recognized program which recruits, trains and supports individuals in mental health recovery striving to become providers of mental health services. The program operates a job bank and meets the educational requirements that lead to Certification as a Recovery Support Practitioner (CRSP) and Certification as a Co-occurring Disorders Professional (CCDP). (Statewide)
MHANJ's Call Center
The Mental Health Association in New Jersey's (MHANJ's) Call Center recently achieved a mark of distinction by attaining national accreditation from Contact USA, one of the only programs in the country devoted to maintaining standards of service at calling programs.
NJ Connect for Recovery is the only call line dedicated to providing counseling specifically to individuals and families coping with addiction to heroin and prescription painkillers. (855-652-3737)
New Jersey MentalHealthCares is our mental health information and referral service which provides ongoing
emotional support, case management, and intervention as well as mental health screenings. (866-202-HELP) (4357)
Peer Recovery WarmLine (PRW) is a peer-run service providing ongoing telephone support to mental health consumers as they work on their recovery. (877-292-5588)
We also operate the NJ Disaster Mental Health Helpline and are a National Suicide Prevention LifeLine participating
center.
Community Involvement
The MHANJ Ocean County is pleased to participate as an active member of the mental health community in Ocean County. It is represented on several local committees and boards including the Consumer Provider Association, the Mental Health Board, the Emergency Response Committee and the Systems Review Committee. MHANJ's local partners include Saint Barnabas Behavioral Health, Ocean Mental Health Services and Preferred Behavioral Health of New Jersey.
For more information about MHANJ Ocean County or statewide, contact Rachel Odea atrodea@mhanj.org or 732-244-0940.
The MHANJ's services are funded, in part, by the New Jersey Division of Mental Health and Addiction Services.