Juneteenth 2022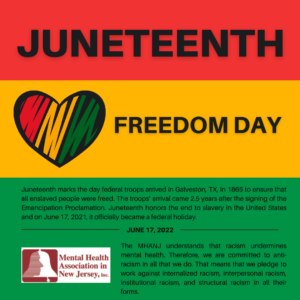 Juneteenth marks the day when federal troops arrived in Galveston, TX, in 1865 to take control of the state and ensure that all enslaved people be freed. The troops' arrival came a full two and a half years after the signing of the Emancipation Proclamation. Juneteenth honors the end to slavery in the United States and on June 17, 2021, it officially became a federal holiday.
The color red is said to represent the blood shed throughout enslavement, and some say it traces back to parts of West Africa where red drinks marked special occasions and red is symbolic of spiritual power. Red foods are a staple for Juneteenth such as watermelon, BBQ meats, red velvet cake and red colors drinks. Following the Reconstruction period, white-controlled mass media vilified Black people's consumption of these foods by creating racist food stereotypes to depict Black people as hog and chicken thieves and having a strange appetite for watermelon.
The MHANJ understands that racism undermines mental health. Therefore, we are committed to anti-racism in all that we do. That means that we pledge to work against internalized racism, interpersonal racism, institutional racism, and structural racism in all their forms.