Programs Supporting Diversity, Equity, Inclusion and Engagement
About Our Programs
The Mental Health Association in New Jersey supports diversity, equity, inclusion and engagement. We offer a vast variety of programs addressing emotional health for families with diverse backgrounds that vary by culture, race, ethnicity, gender expression, religion, and language. We provide support services that recognize health disparities and work to increase awareness, education and engagement. We promote emotional wellness by embracing the mind, body and spirit approach while addressing the stigma and other barriers. We educate members of our communities, members of the clergy and faith leaders to recognize mental health challenges and how to link congregants to resources.
—Family Consultation
One-on-one sessions that provide coping techniques and strategies to promote wellness and resiliency as well as assistance in steering and navigating the complexities of the mental health system.
—Family Support Groups/ Education Workshops
Our diverse, multilingual, multicultural team provides group sessions to help mitigate stress, manage emotional reactions and problem solve. Discussions of vaccine hesitancy, financial insecurity, grief and loss, and pandemic fatigue are the focus of many discussions from group participants

Workshops provide families information on topic of mental health wellness, mental illness, suicide prevention and more…
—Community Engagement
Collaboration and convening diverse groups who work with communities of color.
—Strengthen the role of the church in promoting mental wellness
Educate church leaders on the topic mental health, prepare leaders to recognize mental health symptoms, learn how to have an appropriate conversation about it, and refer congregants to mental health professionals. It is likely that families in their congregations may be experiencing mental health challenges, so it is critical to find ways to normalize the conversation of mental health.
If you have any questions about Programs Supporting Diversity, Equity, Inclusion and Engagement please contact




Jaime Angelini at

Jangelini@mhanj.org 

or 973-571-4100, ext. 215.
Please Scroll this ENTIRE Page for Programs on our Calendar
TO ENLARGE DOUBLE, CLICK ON THE IMAGE,
TO DOWNLOAD, RIGHT CLICK ON THE IMAGE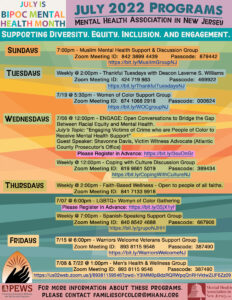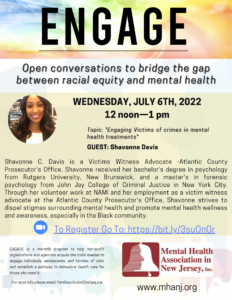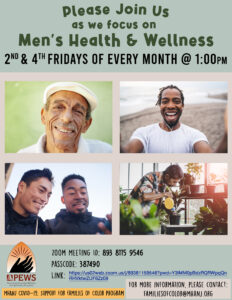 Thankful Tuesdays is on Hiatus for the Summer.