COVID19 Updates and Information
---

Emotional Support Available
NJ Mental Health Cares, the state's behavioral health information and referral service, now offers help to people dealing with anxiety and worry related to the Novel Coronavirus (COVID-19) outbreak. New Jerseyans can call 1-866-202-HELP (4357) for free, confidential support. Click here to read the NJ Department of Human Services Press Release.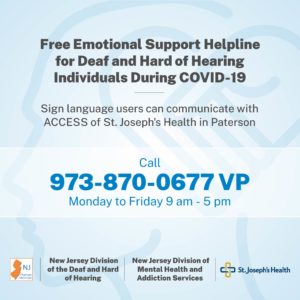 Helpline for Individuals Who are Deaf and/or Hard of Hearing
The NJ Department of Human Services' Division of Mental Health and Addiction Services, in collaboration with the Division of the Deaf and Hard of Hearing, is pleased to announce a videophone helpline for individuals who are deaf and/or hard of hearing to access emotional support during the COVID-19 pandemic.  
Sign language users are able to communicate directly with our partners at ACCESS, of St. Joseph's Healthcare System in Paterson.   Individuals who are deaf and/or hard of hearing can call 973-870-0677 VP, Monday to Friday from 9:00 am to 5:00 pm.
About This Page
The Mental Health Association in New Jersey is pleased to provide this information related to the coronavirus compiled from reputable national and New Jersey State sources. We hope that the links and material assist you in finding factual and useful information. 
CDC Information on Stress and Coping During the COVID-19 Outbreak: Here are some mental health tips from the CDC (Centers for Disease Control and Prevention) about coping with stress related to COVID-19, with many applicable to stress caused by other issues. Click here to read more.
Taking care of yourself, your friends, and your family can help you cope with stress. Helping others cope with their stress can also make your community stronger.
Things you can do to support yourself
Take breaks from watching, reading, or listening to news stories, including social media. Hearing about the pandemic repeatedly can be upsetting.

Take care of your body. Take deep breaths, stretch, or meditate. Try to eat healthy, well-balanced meals, exercise regularly, get plenty of sleep, and avoid alcohol and drugs.

Make time to unwind. Try to do some other activities you enjoy.

Connect with others. Talk with people you trust about your concerns and how you are feeling.
Message From the National Institute of Mental Health: "These are confusing, stressful times for all of us. As the coronavirus pandemic affects numerous facets of our society, it also impacts each person in different ways. The disruptions to daily life are already being felt by many, my family included—my son has been sent home from college, my place of worship has closed, and the comforting social gatherings that usually fill my weekends are off-limits. We are all feeling uncertain about what could happen in the coming weeks, as we hope to slow the spread of this pandemic. Feelings of anxiety and uncertainty are completely normal during times like this." — Joshua A. Gordon, MD, PhD, Director, NIMH   Click here to read more.
Mental Health And COVID-19 Information from Mental Health America: For the general public, the mental health effects of COVID-19 are as important to address as are the physical health effects. And for the one in five who already have mental health conditions – or the one in two who are at risk of developing them – we need to take personal, professional, and policy measures now to address them. For the past several weeks, MHA has been using its unique database to monitor daily this increase in anxiety. According to our screening data, we experienced a 19 percent increase in screening for clinical anxiety in the first weeks of February, and a 12 percent increase in the first two weeks of March." Click here to read more.
Links to Press Releases and Information 
Mental Health Telephone Support Available During COVID-19 Outbreak
Mental Health Association in New Jersey's Response to COVID-19, with Links to Virtual Support and Learning Opportunities
Link to State of New Jersey, Governor Phil Murphy's Web Page with Press Announcements
Governor Murphy Announces Efforts to Support Consumer Access to COVID-19 Screening, Testing, and Testing-Related Services