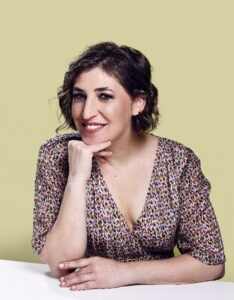 Mayim Bialik, Ph.D., will be the guest speaker through a pre-recorded video interview with Steve Adubato at the Mental Health Association in New Jersey's 22nd Evening of Excellence.
Dr. Bialik is an award-winning actor, television host, neuroscientist, mental health podcaster and film director. She will inspire the audience with her personal mental health journey, advocacy insights and vision on breaking the stigma of mental illness. Showing her presentation through a pre-recorded video affords Dr. Bialik the opportunity to share a sincere, targeted message and interesting conversation with host, Steve Adubato, author, motivational speaker, and anchor.
Many may recognize Dr. Bialik through her podcast, Mayim Bialik's Breakdown, or her roles on television, including the host of Jeopardy, Amy Farrah Fowler on CBS's The Big Bang Theory, the lead on NBC's Blossom in the 1990s, and most recently, Kat on Fox's Call Me Kat.