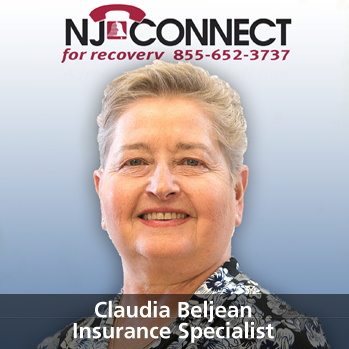 We Can Help!
Insurance Navigation and Information with Claudia Beljean, Connect for Recovery, Insurance Specialist
Insurance can be a barrier to treatment for those who do not understand their rights and are unclear on where to start when seeking help. NJ Connect for Recovery helps those who may have questions concerning insurance, including private insurance, Medicaid and Medicare coverage. Insurance specialists can assist family members and their loved ones with navigating their insurance benefits to ensure that the individual is covered and will provide education on the best treatment options possible. Insurance Specialists work with the family or individual to explain benefits, co-payments, deductibles and co-insurances for in-network and out-of-network treatment providers.
"The complexities and confusion surrounding how to effectively access and utilize private insurance benefits have increasingly been identified by callers to the NJCR call line as a significant issue in securing treatment for a family member. It has been a roadblock for many families seeking the "right" treatment option for family members, along with a full understanding of the treatment options offered by providers and how their coverage works" said Claudia Beljean, NJ Connect for Recovery Insurance Specialist.
Insurance specialists can also facilitate conference calls with your insurance company on behalf of the individual or obtain written consent to inquire on your behalf. If a caller is underinsured or does not have insurance, they will be connected with state-funded treatment programs through the New Jersey Department of Health Division of Mental Health and Addiction Services.
Insurance Seminars are also being offered to organizations who are interested in receiving detailed information on how to navigate the insurance landscape when seeking treatment for substance use disorders.